Hart's Diesel - Performance Turbo Chargers, Injectors, and Fuel Injection Pumps
Welcome to Hart's Diesel & Machine where all your agriculture and pulling needs can be met through our performance tractor and truck pulling parts! Established in 1996, we have over two decades of experience in the pulling and agricultural industry. We are committed to our customers and strive to make you thrilled with our diesel performance parts and repair and maintenance services. Our reputation and strong relationships with the top tractor and truck pulling teams in the industry prove satisfaction among our customers. Our diesel performance parts include turbo chargers, fuel injection pumps, and injectors for our pullers, performance gurus, and farmers. We also offer services for repair and rebuilds on performance and agricultural parts along with all the extra accessories you may need.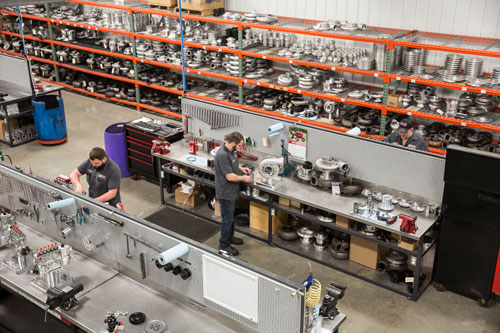 Hart's Diesel & Machine High Performance Parts
Here at Hart's Diesel & Machine, we build quality parts for tractor and truck pulling at a reasonable price. Our products are made in-house through our CNC Machine. We have decades of experience in the industry and our goal is always to supply our customers with the best pulling parts on the market.
Through our various fuel injection pumps, turbo chargers, and injectors we are able to provide our customers with the tools needed to perform to the highest degree. Since our customers always want more horse power and reliability to get that extra inch, we offer products to help them reach their highest power.
Repair Service for Diesel Parts
Not only do we serve the pullers of the world, but we also offer work on stock and agricultural tractors and trucks. Our services offer our customers the ability to repair their turbo chargers, fuel injection pumps, or injectors! We are thorough, with an exceptionally high attention to detail, when repairing or rebuilding your product to ensure quality parts.

The Hart's Diesel & Machine Experience
Being a small-town business ran by a father and his two sons, we always strive to make the best possible products for our customers. We are very family oriented and know our customers on a personal level.
To us, it is not just about the money or selling our products. We always want to make sure our customers always feel connected and understood when they are at our shop or on the phone with us. When talking to our customers, we are not just trying to make a sale. We are truly trying to make sure your needs are met, and you leave feeling completely satisfied.
FAQs About Hart's Diesel & Machine
Read What Our Customers Are Saying About Us
"I'd just like to thank Hart's for fixing my injectors and calling me to tell me my pump was failing! Ordered the parts and got it back to 100%. They had my injectors for two weeks and they were back at my house ready to go in! Great customer service, just a great business, never too busy to help! Give Hart's a call if you need anything, they will have my business from now on👍🏼" - Ethan R.